Charity & Community
---
YOUTH GROUP 
Will Dorrell has been volunteering at the 'Highly Event' for three years. This is a youth group where children from the age of ten to sixteen can come to play games together. These include table tennis, pool and various card games. The youth group also go on trips around the West Midlands, to places such as The Pioneer Centre (Cleobury) and Spree. All funds raised by the event go back into the youth group to provide more entertainment and refreshments for the children.
---
CHARITY SHOPS
Bea Cartwright has been volunteering at the RSPCA charity shop in Stourport for nearly two and a half years now. She originally began volunteering as part of her Bronze Duke of Edinburgh's Award in Year 10 and enjoyed it so much that she still continues to go. Bea says the best part about it is getting to meet all different kinds of interesting people, whether they are new customers, regular customers, or the staff.
Bex Evans volunteers at the St. Richards Hospice charity shop in Bewdley and also began going as part of her Bronze Duke of Edinburgh's back in November 2016. She says: 'It has been really good for me to get out of bed on a Saturday morning and do something productive with my time. The volunteers there are such a lovely and interesting bunch, and our manager Kate is a joy to work with. It is really rewarding to know that you are doing your bit to help an important cause, and that you play a roll in their success.' Adam Brown also volunteers at this charity shop  and started doing it as a way to support his local community, as well as to boost his Personal Profile for future university applications. He believes it has given him new confidence and skills in interacting with customers of all ages, whilst also providing an insight into how businesses and shops are managed.
---
YEAR 12 SUPPORT INTERACT
Congratulations to Year 8 InterAct students, who have raised £244 on their successful Valentine's Event. The students sold personalised Valentine's gifts and sweets, which they delivered during tutor time. This would not have been possible without the support of Year 12 students who helped to make the event a success. The money raised goes to their chosen charity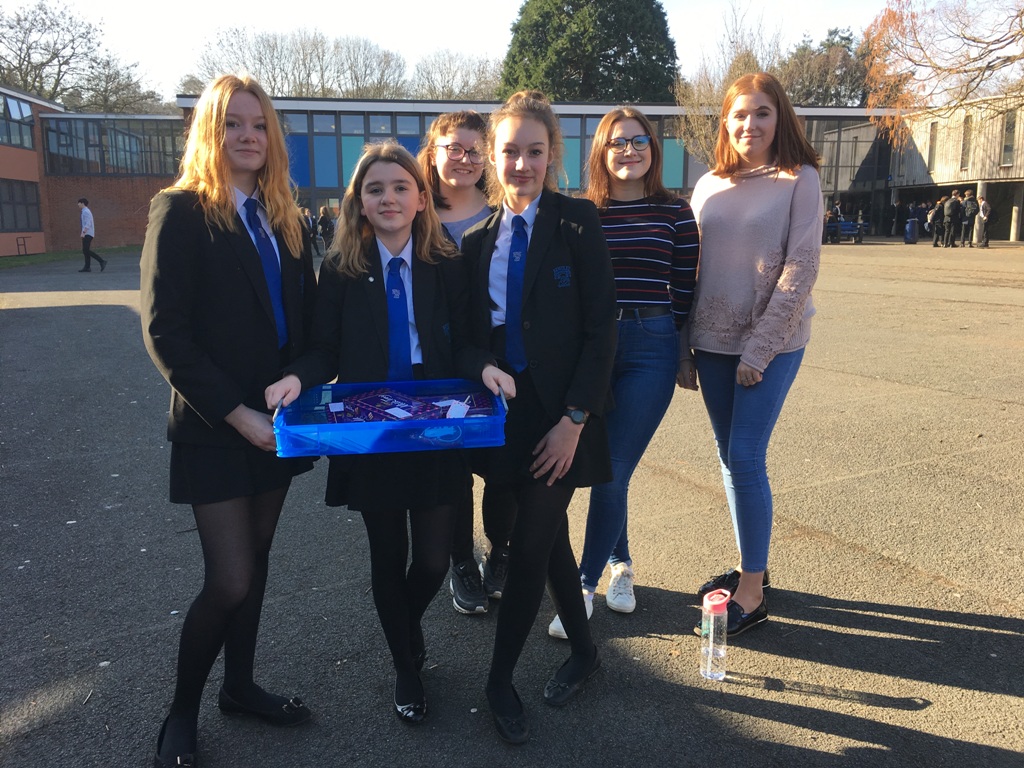 Planting hope for Uganda, which supports Cornerstone's Nursery and Primary school in Uganda. The money raised will help fund an essential Library for the school which will help to improve the chances of a better education for over 800 children.
The Year 8 students have been busy designing the layout for the new library at Cornerstones, and also helped choose the reading books, furniture and rules for the library. In total the students have now raised £2800, and their new project for 2019 will focus on raising funds for two children from Conerstones School to attend the British Council Connecting Classroom Global Happiness Conference, that will be held at The Bewdley School in November.
Mrs Newbold said 'This is a wonderful achievement for our young people and we applaud their compassion and care for other children across the world.'
---
YEAR 12 SUPPORT CAKE SALE
A massive congratulations goes to Year 8 and Year 12 InterAct Group, who raised £250 from their charity cake sale, all the proceeds went towards purchasing reading books and book bags for all the children at a school in Uganda.
Thank you to everyone who supported this fantastic project.